Hasanamba temple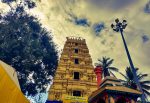 Temple in Hassan district of Karnataka, which remains open only for 10-15 days every year in the month of October or November based on Hindu calendar.
The temple attracts devotees from corners of Karnataka, counting to few lakhs in these days.
Goddess Hasanamba is form of Shakti and considered one of Sapta matrikas.
Temple is said to be of miracles, where the lamp (deepa/diya) which is lit on closing day of temple will remain lit till the opening day of next year.
Hasanamba temple opening dates 2022
Hasanamba temple was open between 13th to 27th October 2022. This year temple witnessed close to 6 lakh devotees.
Hasanamba temple opening dates 2023
Hasanamba temple will reopen on 2nd November 2023 till 15th November 2023. Among this devotees would not be allowed to enter temple premises on 2nd and 15th November. Temple will be open for darshan these 12 days between 6 AM to 1 PM and 3 PM to 10:30 PM.
District administration is expecting around 10 lakh tourists/devotees this year and has been planning extra buses and planned few tourism circuits. Government has planned to bring in Helicopter rides and Parasailing rides as a tourism initiative during these 12 days.
Want us to plan your trip with exciting experiences like above attached? Send us an email, to get your trip itinerary planned.
Travebrate, just plans your trip with itinerary and doesn't book any hotels or rooms.
Check here for Kambala dates of this year.
Check here for Jallikattu dates of this year.